***CTC Booking Coordinator, Jovette Jolicoeur
HOLIDAY AND SPECIAL TRACK CLOSURES
May 22th (Victoria Day), July 1st (Canada Day).
Foothills closed for the Summer as of June 19th, 2023.
All clubs normally training at Foothills, will be training at Rotary Track starting June 19.
Rotary Track not available the following weekends; July 8th-9th and 29th-30th.
SUMMER TRACK BOOKINGS
See Track Meets below the schedule. Contact your respective club or coach for more info, questions or concerns.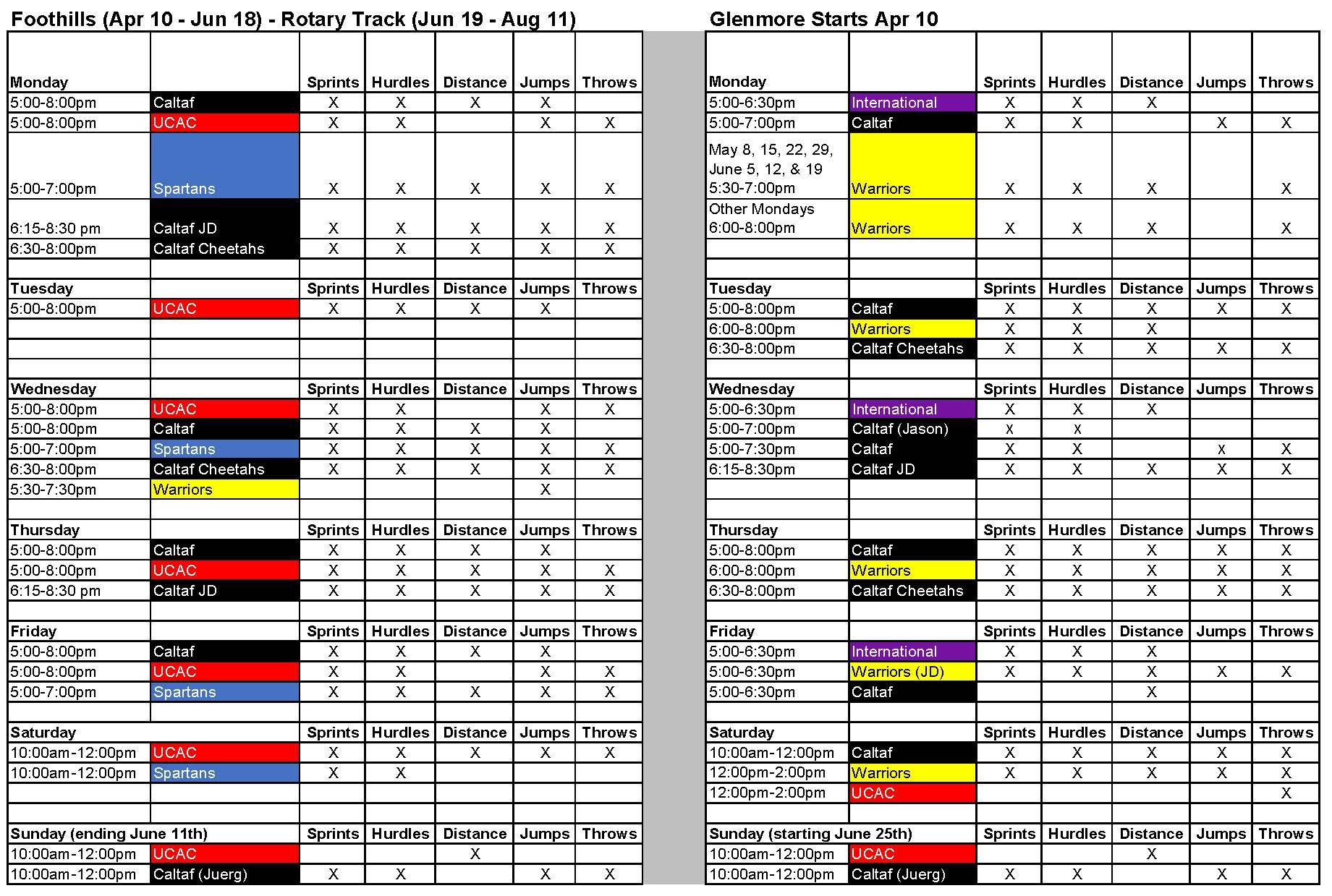 TRACK MEETS
Foothills Track Meets

High School Relays - May 11 - 4pm-8pm
Spring Challenge - Saturday & Sunday May 13-14
GRSAS Series - Sundays #1 May 28, #2 June 04, #3 June 11
CALTAF Classic - Friday-Sunday June 16-18

HS SCHOOL MEETS:
May 15 - 8am-5pm
May 16 - 9am-5pm
May 17 - 8am-5pm
May 18 - 8am-5pm
May 19 - 8am-5pm (rainout day if needed)
May 23 - 8am-5pm
May 24 - 8am-5pm
May 25 - 8am-5pm (rainout day if needed)
May 26 - 8am-5pm
May 27 - 8am-5pm
May 29 - 8am-5pm (rainout day if needed)
May 30 - 9am-3pm
May 31 - 9am-3pm

Jun 01 - 8am-4pm
Jun 02 - 9am-3pm (rainout day if needed)
Jun 03 - 8am-4pm (rainout day if needed)
Jun 05 - 8am-4pm
Jun 06 - 8am-4pm
Jun 07 - 8am-4pm
Jun 08 - 8am-4pm
Jun 09 - 8am-4pm
Jun 12 - 8am-4pm
Jun 13 - 8am-4pm
Jun 14 - 8am-4pm
Jun 15 - 8am-4pm
Jun 16 - 8am-4pm


Rotary Track Meet

Cheetah Invitational U14 Alberta Championships - Saturday & Sunday June 24-25
GRSAS #3 - Tuesday July 4th - 6:00pm to 9:00pm
CALTAF Last Chance U16+ - Thursday August 3rd - 6:30pm to 8:30pm



Glenmore Track Meets

THROWS FESTIVAL:
Aug 26 - 9am - 5pm
Sept 09 - 9am - 5pm
Sept 23 - 9am - 6pm
Sept 24 - 9am - 2pm

HS SCHOOL MEETS:
May 05 - 7am-2pm
May 12 - 7am-2pm (rainout day if needed)
May 30 - 11:30am-5:15pm
May 31 - 11:30am-5:15pm

Jun 01 - 11:30am-5:15pm
Jun 02 - 11:30am-5:15pm
Jun 05 - 11:30am-5:15pm
Jun 06 - 11:30am-5:15pm
Jun 07 - 11:30am-5:15pm (rainout day if needed)
Jun 08 - 11:30am-5:15pm (rainout day if needed)
Jun 09 - 11:30am-5:15pm (rainout day if needed)
Jun 12 - 11:30am-5:15pm (rainout day if needed)