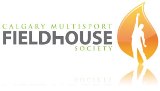 CMFS has been working since 2008 to promote the construction of a Multisport Fieldhouse. Calgary is the only major "winter" city in Canada without a fieldhouse facility. The very first Fieldhouse proposal to the City of Calgary was more than 50 years ago in 1967. Because of our often challenging weather and growing population, indoor sports facilities are greatly needed to serve amateur sport groups and active people of all ages. The proposed facility contains a 400m indoor track, a full-size turf infield, demountable stands, and attached gymnasia.

The City of Calgary has confirmed the Multisport Fieldhouse need on multiple occasions including the City of Calgary/Sport Calgary Strategic Plan for Sport Facility Development & Enhancement. In 2013, a Fieldhouse was confirmed as the first priority to be built in any redevelopment of city lands at Foothills Athletics Park. A Fieldhouse is listed among the highest priority projects in the 2015 Unified List of Unfunded Capital Requirements.
The Fieldhouse is a facility with 100% true public benefit that aligns with the City's 10 year Economic Strategy - area of focus - Community Energy. The strategy of "Build and Promote Calgary as a city to live a creative, active life" includes a particularly relevant action item: "Build a city where all Calgarians can participate in sport and recreation to the extent they choose".
We have engaged the support of 25 amateur sport associations representing approximately 200,000 members in Calgary and throughout Alberta. All agree that improved indoor training & competition space in Calgary is urgently needed. A fieldhouse has tremendous sports tourism potential as a venue for major tournaments and other events.
Fieldhouse amenities and program requirements
Public/amateur sport users' ease of access & parking
Wide primetime availability for public & amateur sport groups
Affordable rates & fees and long term guarantees
Governance model to serve the needs of user groups
Wherever the facility is located, the general public and amateur sports groups must have wide primetime access to the Multisport Fieldhouse at an affordable cost. We have asked City Council to act with urgency in confirming the location of the Multisport Fieldhouse and capital funding. We don't want to lose the momentum that has grown to proceed with the Fieldhouse project. "The Fieldhouse should be the #1 priority for any sports facility related tax payer dollars or City financial support. While CMFS appreciates the need for a new Arena/Events Center we emphasize the need to address Fieldhouse funding first. Understanding the far-reaching implications of this decision and the complexity attached, we ask the new City Council to act with urgency in committing to a funded Fieldhouse." states Jason Zaran, Chair of the Calgary Multisport Fieldhouse Society.
CMFS is continuing to do all it can as a non-profit volunteer run organization to promote the construction of the Multisport Fieldhouse. To that end, engagement with our user groups and key stakeholders is paramount as we look to take our Society's mandate from that of advocacy to execution. Moving forward we are committed to involvement in the programming and design details to ensure that the facility serves the needs of user groups. We will continue to work closely with the City of Calgary and Sport Calgary in support of this long needed facility to benefit athletes of all ages. Together we can enhance our city and benefit future generations with the foremost Multisport Fieldhouse facility of its kind in the world.
Please contact us if you would like any further information contact@calgaryfieldhouse.ca
Follow us on
Twitter
Like us on
Facebook
Fuel the Fieldhouse Call to Action
Our new video and online petition are now available on our website. Please sign the petition to show your support for the Fieldhouse project.

Your support is greatly appreciated as we work to achieve this greatly needed multisport facility in Calgary.

Let's do this together!